E-Sourcing: Getting Best Prices from Best Suppliers
A successful purchase is when the approved requirement meets the supplier with the best offer. The process of assembling, systematizing, and approving requirements is automated and facilitated with the help of the Requisitions tools. Acquirell uses the E-Sourcing features to search for and select suppliers and automate procurement. In Acquirell, you can use seven standard procurement methods: from the simplest ones, with RFQs sent to all suppliers, to auctions.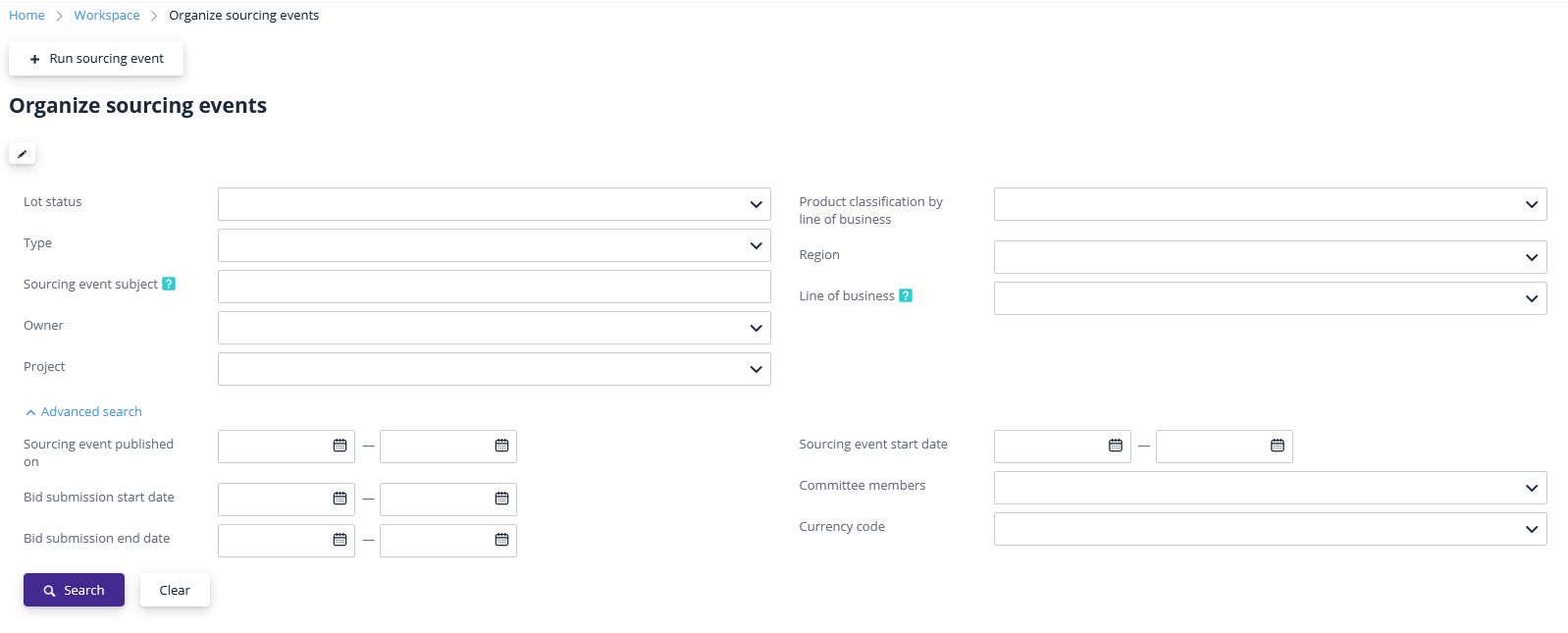 The actions of suppliers and sourcing execs are documented automatically, and the procurement history is saved. It allows you to:
Search and analyze held and ongoing sourcing events — you get information about current purchases in a convenient tabular form and can sort their list by any important criterion, from the best price offer to the procurement method.
Analyze individual sourcing events — go to the sourcing event card to get information on the procurement process, actors, and evaluation criteria.
Maintain successful procurement practices — if a sourcing event has brought savings and identified suppliers willing to reduce the price and deliver quality goods, it can be used in procurement under similar circumstances.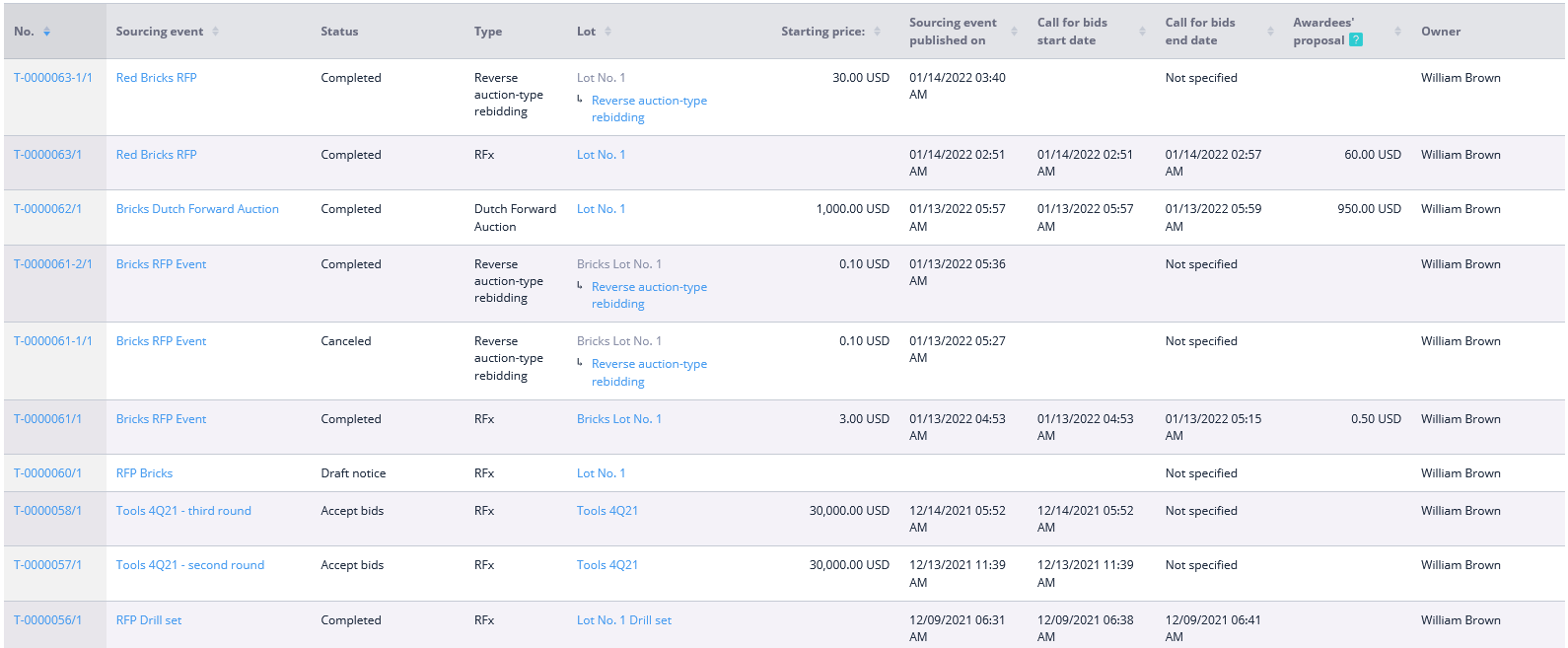 By combining different procurement methods, you can create complex, multi-stage sourcing events, for example, prequalify suppliers who will participate in the sourcing event, identify the best among them according to given criteria, invite them to a tender, and hold pricing resubmission with the two best bidders. Use Accreditation tools to evaluate potential suppliers and engage only the best ones.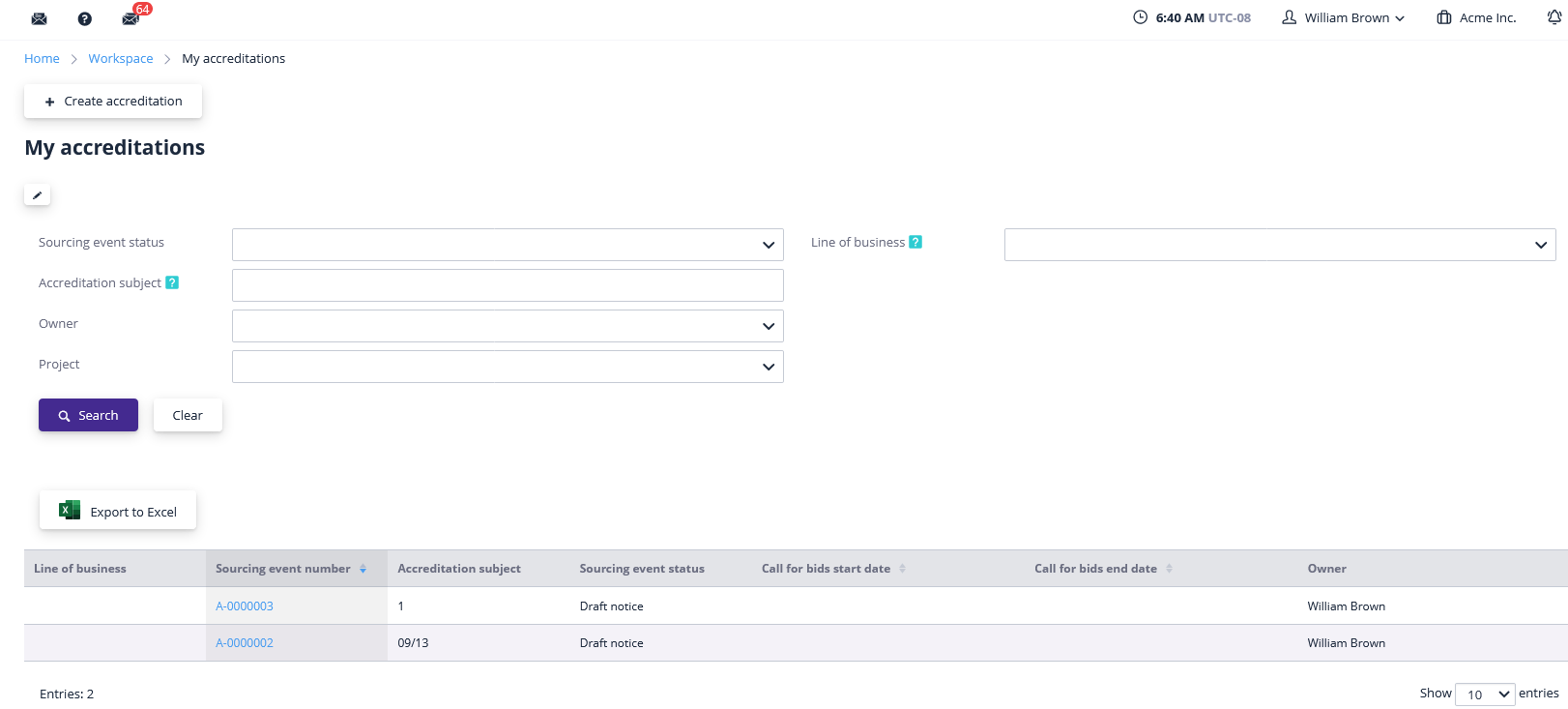 Accreditation includes a set of activities to evaluate a supplier. This procedure verifies the qualifications of a supplier, their ability to deliver goods or services, and compliance with other ESG criteria or parameters. By holding accreditations, you can easily create lists of potential suppliers to procure from for an entire product category or a specific product.
The main Accreditation tool is a questionnaire based on defined Evaluation criteria. There can be dozens of these criteria — price, delivery speed, willingness to offer deferred payment or payment by installment, and promptness in processing requisitions from the buyer. And they all become the details of the ideal supplier portrait: a product, a product group, or a service.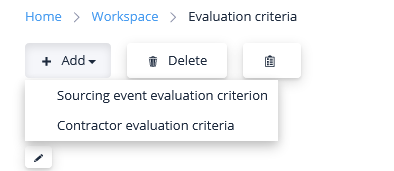 You can use the questionnaire design tool to organize information on potential suppliers and bidders for important tenders. It allows you to set the types of questions, required documents, and other important information about the supplier and get the data structured and standardized.
Explore all the E-Sourcing tools of the Acquirell Procurement Management System by requesting a demo. Learn how to create sourcing event chains, track supplier behavior, evaluate their bids, and identify those that will bring the most value to your business.
Find out What Acquirell Can Do for You
You don't have to take our word for it when you can see for yourself. Find out what Acquirell can do for your business.
See how our corporate procurement system works and learn about its benefits for your company. Request a free, no-obligation demo.
Please fill out this form so that we can contact you and select a convenient time for an online demo.